Recipe-finder.com announced on Friday that it publicly entered the recipe portal niche this month.
The recipe portal niche has been fairly competitive over the past few months, with other sites such as Foodily and Supercook. Recipe Finder, however, has features that allow social sharing and menu planning simple and easy.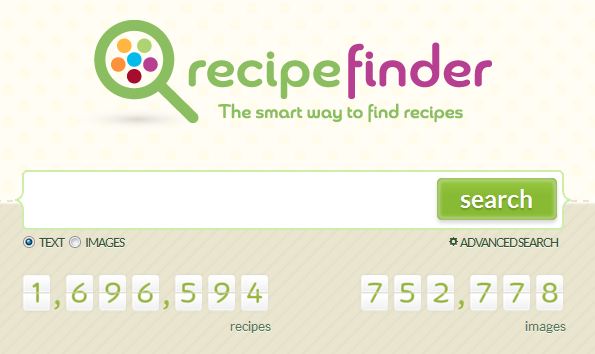 There's over 1 million recipes and over 700,000 delicious images to look through. I'm serious- just take a look at the Bacon images and you'll never leave… or you'll go crazy and surround yourself with 3 course meals featuring bacon cooked 80 different ways.
Brewed-Coffee mentioned Recipe Finder early this morning discussing the ability to even find recipes infused with coffee- something that's an acquired taste and traditionally harder to find when searching for recipes.
Individual Recipes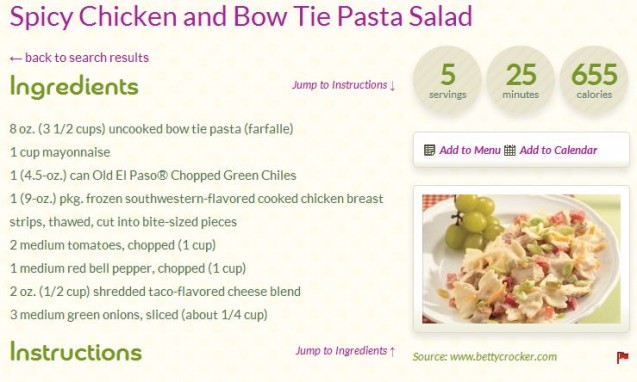 The individual recipe pages on Recipe Finder are very simplistic and easy to use. You'll see on the top right, there's how many servings that recipe makes, the amount of time, and the calories. Then you can add it to a menu (talked about below) or to your calendar. You can also print, email and socially share any recipe you find on here.
Recipe Videos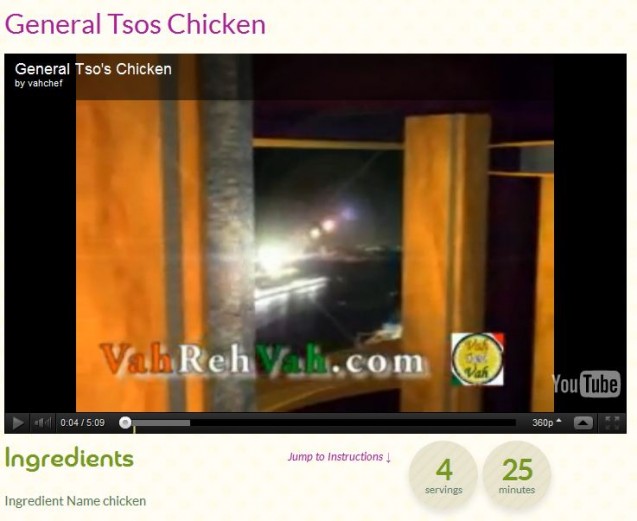 Recipe videos are also available throughout the site for those who learn better visually with audio instead of reading and absorbing things that way- they just made mention today on their Facebook that they're starting to integrate them into the site.
It's a little hard to keep tabs on your cooking when you have to keep finding your spot in the recipe that you're using. I think it'll be really interesting, as time goes on, to see whether user submitted videos will be pulled in so that smaller foodie sites can have their recipes shared and picked up via video.
Menu Feature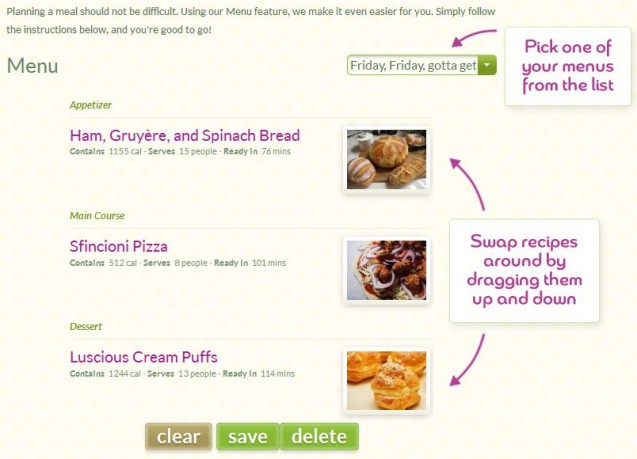 The menu feature on Recipe-finder.com is probably one of my favorite ones- mainly because you have the ability to not only search and browse recipes by calorie counts, serving sizes, and including/excluding ingredients; but you can take that and actually put together your meal for whatever day of the week you're planning for.
This is going to come in handy through the holiday season. You can even put together multiple holiday menus for variety and voting to see what actually passes through and gets made.
Tying Search into our Generation
Our generation relies heavily on search for everything. Have a question? The solution is usually just to Google it. So it's prime time for sites like Recipe Finder to thrive- our younger generation isn't the generation of old cook books and hand me down recipes.
Our generation is looking for new tailored ways to search, cook and share; and Recipe Finder is providing avenue for newbie foodies and seasoned chefs alike.
If you're a food lover, what sites are you accustomed to using for searching for recipes? Any features that you're hoping to see roll out in the future in the portal niche to help tailor searches and get the recipes you need?

Check out the SEO Tools guide at Search Engine Journal.
Recipe Finder's Search Engine Entering the Portal Niche
https://hostmds.com/wp-content/uploads/2017/04/Cirrus-Logo5-300x75.png
0
0
admin
https://hostmds.com/wp-content/uploads/2017/04/Cirrus-Logo5-300x75.png
admin
2011-09-19 16:26:50
2011-09-19 16:26:50
Recipe Finder's Search Engine Entering the Portal Niche