The Google Shopping vertical and me have a distinctly love hate relationship. In fact, I'd go so far as to say it rivals my relationship with Cold Stone creamery. I love what they do to my mouth, but not to my ass. Wait. That sounds bad.
Oh look, broken ice. Seriously, if you didn't laugh, you'll want to turn back now. It only gets better.
Google Shopping is one of those verticals that looks as appealing as video search but acts nothing like it and doesn't always help you make a decision. Sometimes it just makes it harder by providing tons of options and information about every little detail. It's kind of like that awesome guy from the cars.com commercial who can do surgery with a ballpoint pen but has no idea how to buy car.
But this post isn't about the user experience. Well that part was. But the rest won't be.
No this post is about a pattern and correlation study that the Slingshot SEO R&D department is starting.
We've been noticing for a while now that there appears to be some inconsistency in the identifiable factors that cause rankings in Google Products. So I'd like to take you all with me (No, we will not be taking a MAGIC school bus) on a magic school bus ride through one example (SHOCK!) and I'd like to present to you some of the key pieces I'm paying attention to. Hopefully some of you can do that voodoo you do so well and help me see the forest from the trees.
First, I'd like to take a look at the ranking of products for the search LG G2x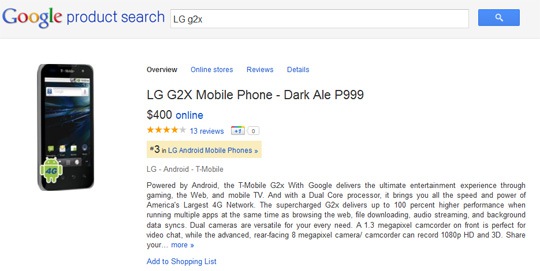 Let's go down the list of the top ten and look at what should be some of the obvious factors.
Keyword in Title and on Page
6 with, 4 without. Amazon and Buy.com knock this one out of the park. Exact match on both counts. But they both start their title tags with the brand name. That's an SEO 101 no-no if I remember my Moz Guide correctly.
Pricing
Most consumers will tell you they want the bargain. Google? Not so much. I know I said to look at the top ten, but for this one take a look at all 18. The top listers range from $400 to $649.99. The bottom 8 range from $379.99 to $499.00. Granted $20 may not be much relatively, but some consumers will go out of their way for a dime difference.
Popular Opinion
Most of the time I don't really care what my friends say (Sorry guys) but when they say the magic words, "I found a store that sells lighter cufflinks." I usually slap my friend for their egregious awesomeness and then buy the cufflinks. So how does Google feel about my people's opinion of the products? They likey. So much so they gave it it's own column. It lacks the usual Roman luster, but the green is a nice touch. But they're certainly not a definitive ranking factor. In fact, they don't seem to have that much weight, either in large amounts or in relatively small amounts. Whether you have a dozen more or a few thousand more, there doesn't appear to be a lot of effect.
Details
One of the things I distinctly remember about Google Shopping ranking factors was that detailed information was important. With the exception of Amazon, this appears to be spot on. Most of the top ten in this list have an exceptional amount of information about phone. It's hearing phone compatible in case you were interested.
I would love to get your feedback and look forward to delivering more information about the Slingshot R&D study, as it progresses over the next few months, here on Search Engine Journal.
Have fun and feel free to contact anytime with questions or comments at evan at slingshotseo.com
*This is a guest post by Evan*
Check out the SEO Tools guide at Search Engine Journal.
Google Shopping: God is in the Details
https://hostmds.com/wp-content/uploads/2017/04/Cirrus-Logo5-300x75.png
0
0
admin
https://hostmds.com/wp-content/uploads/2017/04/Cirrus-Logo5-300x75.png
admin
2011-07-14 13:00:26
2011-07-14 13:00:26
Google Shopping: God is in the Details